FOR COACHES WHO WANT TO BUILD A PERFECT AUDIENCE FAST
How To Run Your Own "Set & Forget" Facebook & Instagram Ads Instead Of Needing To Post On Social Media All The Time
YES, PLEASE!
Start To Get Seen And Heard Online Without Having To Post, Write And Create New "Stuff" Every Week In As Little As 7 Days - Or Your Money Back!
Traffic Jumpstart: Your Guide To Create, Run & Optimize Your Own Facebook & Instagram Ads In Just 3 Days
Top Facebook Ads Expert Reveals The Steps You Need To Scale A Coaching Business You're Proud Of While You Do Great Work & Get Paid Well... Even If You Think Facebook Ads Won't Work For You!
"I have a calendar full of calls next week! The more I increase the ad budget the more calls are coming through... The client that signed up today paid in full too - YAY!"
GET INSTANT ACCESS TO MY $15M ADS PLAYBOOK WITH TOOLS, GUIDES & WORKBOOKS IN ONE BUNDLE
After 12 years running top-performing Facebook & Instagram ads for hundreds of clients (and myself), I'm giving you access to the ultimate shortcut bundle, that includes:
STREAMABLE LESSONS TO SHOW YOU PROFITABLE CAMPAIGN CREATION, MANAGEMENT, MEASUREMENT & OPTIMIZATION

PROVEN TO CONVERT AD COPY SWIPE FILES

HIGH-CONVERTING AD TEMPLATES TO LIVE BY
INNOVATIVE AD STRATEGY WORKSHEETS TO PLAN AND CREATE YOUR MOST PROFITABLE AD CAMPAIGNS EVER
Create And Take Control Of Reliably Generating Great Leads On Social Media Day In And Day Out Without The Wasted Money And Confusion
Do It All Without Having Any Experience With Ads Whatsoever
... and Much, MUCH More!
JOIN FOR INSTANT ACCESS TO THE EASY AD SET-UP GUIDE, 30+ PROVEN AD SWIPES & EASY AD SCALING GUIDE
JOIN NOW & YOU'LL GET ACCESS TO THESE
YOUR 60-MIN QUICKSTART ADS SET-UP GUIDE FOR LASER AUDIENCE TARGETING
Stop wasting money on boosting your posts and get access to advanced targeting and tracking features.

Make the most of the Facebook ads platform without all the confusion.

Easy explanations help you tap into ALL the features with both videos and up-to-date screenshots and text instructions.

I cover how to set up, install and measure your Pixel and access Advanced Audience Targeting Features too.

You'll also find out how to create and use Custom Audiences, Retargeting and detailed conversion info too.
$97 VALUE INCLUDED
YOUR ESSENTIAL FACEBOOK & INSTAGRAM AD CREATION GUIDE
Create the most click-worthy campaigns that quickly engage your best potential clients. Quickly understand how other winning ads work and how you can save wasted time, effort and brainpower by applying all the best proven strategies.

You'll have access to the 5 key components you can't ignore when creating campaigns that convert and keep your costs WAY down.

This workbook alone gives you a clear visual and written guide to take action and make the most of the amazing features of the platforms.

Your success is assured.
$97 VALUE INCLUDED
TRY TRAFFIC JUMPSTART FOR 7 DAYS
100% SATISFACTION GUARANTEE
If Traffic Jumpstart Step-By-Step On-Demand Digital Guide doesn't show you exactly how to get more leads... if it doesn't pave the way for you to instantly create your own effective Facebook & Instagram Ad campaigns... and if it fails to help you generate more traffic from social media day in and day out without wasted money and confusion (even if you don't have any experience with ads whatsoever)... then I don't want your money. I'll give it all back - no questions asked - no hard feelings!
THIS WORKS! And Here's Proof...
I've helped hundreds of coaches get clients on demand using Facebook & Instagram Ads FOR OVER A DECADE! Here's what a couple of them had to say:
"The first $5000 conversion from the new webinar for came in overnight!"
(As well as a TON of $27 sales) and new discovery calls from the Facebook Ads.

LOVING THIS JOURNEY!!!

I'm so grateful to have found someone in marketing that walks the walk and shows how to make this happen. Thank you so much!
– KAREN
"$101,256 In Sales Of Just ONE Offer This Year!"
Facebook Ads have added 1223 new email subscribers and have led to 21 sales of my brand new offer so far.
– Lu
JOIN FOR INSTANT ACCESS TO THE EASY AD SET-UP GUIDE, 30+ PROVEN AD SWIPES & EASY AD SCALING GUIDE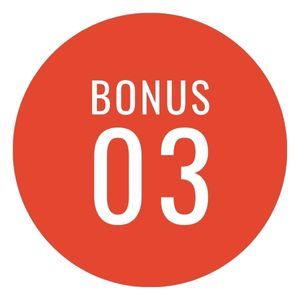 PLUS! NEW MINI-WORKSHOP:The Funnel-Free Guide To Getting Leads Straight From Your Ads
Discover how to rapidly build your email list with targeted leads WITHOUT needing to have a website or any landing pages. In this on-demand workshop you get immediate access to when you join, you'll discover exactly how to set up your Lead Ads that capture email addresses directly on Facebook & Insta so you can forget about funnel-building as you test messaging and ideas first.

$97 VALUE Included inside of Traffic Jumpstart
Get Even More Low-Cost Leads With A Quiz
Discover the lead magnet that gets coaches the lowest cost super-targeted opt-ins. Let me show you how you can set up your quiz campaigns on Facebook and Instagram for success and get quality email opt-ins for around $1 a piece...

You'll see a real-life campaign in action and see how these set-and-forget ads can be a force of growth without you barely having to touch the ads once they are up and running with this system.

This strategy alone will save you thousands on ad campaign costs


VALUE $97 Included inside of Traffic Jumpstart
Facebook Ad Checklist (Valued at $37)
Quickstart Meta Ads Step-By-Step Ad Guide (Valued at $97)
Essential Ads Creation For Facebook & Instagram Ads (Valued at $97)
Ads Optimization Guide (Valued at $47)
Instagram Ads Swipe File (Valued at $47)
Ad Strategy Workbook & Planner To Make Your Own & Map Out Your Unique Copy Angles & Creative (Valued at $197)
Fail-Safe Ad Template (Valued at $27)
JOIN FOR INSTANT ACCESS TO THE EASY AD SET-UP GUIDE, 30+ PROVEN AD SWIPES & EASY AD SCALING GUIDE